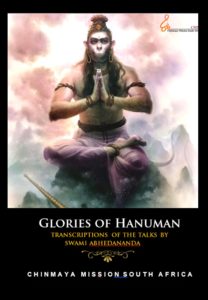 The sacred text of Shri Ramcharitmanas extols the greatness of everyone's most favorite super-hero, Shri Hanumanji in various ways and glorifies not only the power of Hanumanji but his unmatched humility and unwavering love for Lord Ram.
In this unique book, you are sure to experience the divine fragrance that resides in and through Hanumanji's personality via Swami Abhedanandaji's beautiful commentary on some of the most thought-provoking episodes from Ramcharitmanas.
Swamiji starts with the description of the three forms of Hanumanji as Ishwar roop (Faith), Bhakt roop (Inspiration) and Guru roop (Guidance), and gradually glides into an in-depth illustration of how Sugriva was well protected under Hanumanji's guidance as a Guru. In his assuring words, Swamiji affirms that Guru is the one who has very close proximity, communication, and oneness with the God and therefore he takes the disciple very close to the God.
Moving ahead, Swamiji reveals the secrets of how Mother Sita (Absolute Peace) has to be searched in our lives, and how we should rise above our ahamkaar (ego), and cross the ocean of dehabhimaan, just as Shri Hanumanji did!
Read these transcripts of Swamiji's mesmerizing talks and call upon Shri Hanuman in your minds, and invoke him to get connected to the all-powerful Lord!
* (ThirdEye Subscription Required)