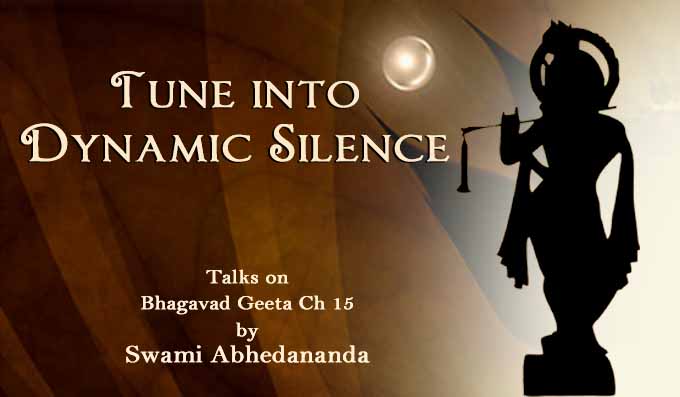 Tune Into Dynamic Silence
The Holy Geeta is a lighthouse of eternal wisdom that has the ability to inspire mankind to Supreme accomplishments and enlightenment. Lord Krishna's message in the Geeta is to see permanent in the impermanent, to realise the unchanging in the chaning, to remain unruffled and untouched in the most turbulent and troubling situations.
Through these talks on the 15th chapter of Geeta, Swami Abhedanandaji reveals the hidden truths about the nature of the world, the Self and the God. He teaches the art of making our responses a reception of the higher and not the reaction of lower instincts. Swamiji enables us to understand that the perception of a "part" makes our happiness limited and deferred, whereas realization of the "whole" reveals that Happiness in our essential nature. Above all, he explains how the Geeta can help us correct and transform our limited vision.
Genre: Vedanta
Duration: 5 Talks/7 Hrs
Media: Video / Audio
Series: Singapore 2010